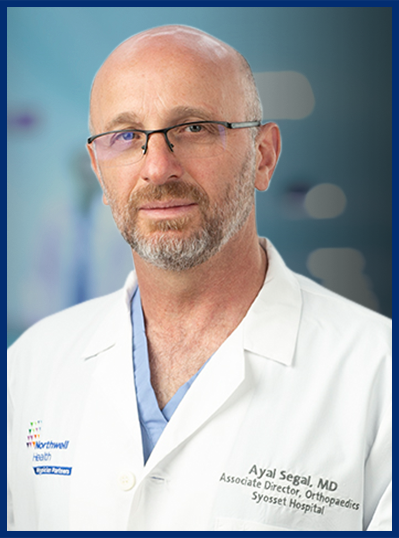 Ayal Segal, M.D.
Joint Reconstruction, Hip, Knee, Foot & Ankle Surgery
Ayal Segal, MD is an orthopedic surgeon with fellowship training in adult reconstructive surgery, and a fellowship training in foot and ankle surgery. Dr. Segal specializes in advanced total joint replacement of the hip, knee, and ankle as well as complex reconstructive foot and ankle surgery.
Dr. Segal focuses on minimally invasive muscle and tendon-sparing techniques, including direct anterior approach hip replacement and minimally invasive total knee replacement that allow patients to go home sooner and return to their normal activities quicker. Dr. Segal also has extensive experience in complex primary arthroplasty, patient specific instrumentation surgery, computer navigation assisted surgeries, and revision of failed or painful hip and knee replacements. Dr. Segal joined Northwell Health in 2005 as Director of the Foot and Ankle Service at Glen Cove Hospital. He was appointed the Associate Director of the Department of Orthopedic Surgery of Syosset Hospital in 2015 and is one of the leading surgeons in the Northwell Health Center for Orthopaedic Excellence. Dr. Segal is a designer of total hip and knee instruments and prostheses and has personally performed more than 10,000 total joint arthroplasties.
Orthopedics is his life-long passion. Dr. Segal constantly strives to advance the field with dedicated orthopedic surgery research, orthopedic surgical techniques using cutting edge technologies, excellence in service, and a passion to help patients return to work, sports, and their daily activities as quickly as possible. By providing diligent personalized treatment driven by the latest research, Dr. Segal ensures the best possible outcomes for his patients.
Dr. Segal has a wide variety of research interests. He has authored numerous peer-reviewed publications in the field and has presented his work at both regional and international meetings. Specifically, his research focuses on improving the quality of orthopedic joint replacements as well as investigating novel methods to reduce surgical complications. Dr. Segal is a member of the American Academy of Orthopedic Surgeons (AAOS), the American Association of Hip and Knee Surgeons (AAHKS), and the American Orthopaedic Foot and Ankle Society (AOFAS).
Dr. Segal has a keen interest in Orthopaedics in the developing world. He has volunteered his expertise and performed hip and knee replacement surgery for numerous medically underserved patients across the globe. In particular, he travels frequently to serve patients in Ghana and Equatorial Guinea in Africa. Additionally, he is an active participant in Operation Walk USA sponsored by the American Academy of Orthopedic Surgeons.
Dr. Segal obtained his medical degree at the Hebrew University Hadassah Medical School in Jerusalem in 1995. In 2000, Dr. Segal completed his residency in orthopedic surgery at Chaim Sheba Medical Center in Tel Aviv, one of the 10 best hospitals in the world. He continued his training by completing a foot and ankle fellowship at the prestigious Hospital for Special Surgery in New York City. The following year he completed a fellowship in joint replacement and adult reconstructive surgery at Northwell Health Glen Cove Hospital in Glen Cove, New York.